Eye-catching art part of our eco commitment
Many patients and customers who have visited in recent months have commented on the artwork that adorns one of the practice walls.
Not many though can immediately guess what the swirling, rising waves of blues, greens and whites are actually made from.
Well, it's plastic carrier bags mainly.
Melted plastic carrier bags and 'ghost gear', the broken fishing nets, lines and hooks thrown up on our beaches.
They were created by our very own Sukie Woodhouse (for those who don't know she's a very talented artist as well as being a director of the business here). She turned her horror at the amount of single-use plastic in a typical weekly family shop into these expressive designs.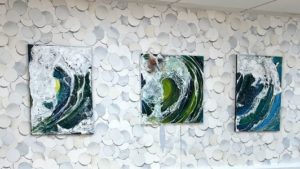 We've now hung several pieces in the practice. Partly because we like something eye-catching for patients to look at while they're with us, but also they represent an important message we have as a business.
It's a reminder for us that our eco commitment is something we take very seriously – and something we are continuously working on.
The optical industry is a sector, like many, that comes with a glut of packaging. Packaging that all too often finds its way into landfill.
One of the ways we've changed is by moving to work with businesses who are not only brilliant at what they do but can demonstrate their eco commitment.
Recycled marine plastic
For instance, Sea2See produce optical frames and sunglasses made entirely with recycled marine plastic collected by fishermen in Spain, France and West Africa.
Zeal Optics use plant-based materials in all their sunglass frames and lenses.
And Eco uses recycled and biobased material in their frames – and plant a tree for every frame sold.
Here are some other ways we've committed to reducing our eco footprint.
Switched to environmentally friendly cleaning products, refuse sacks are biodegradable.
Our PPE is now re-cycled through a company called ReWorked.com.
We recycle all contact lenses with Tetra Cycle and actively encourage patients to return used ones to us.
Frames we recycle with Lions Club, London, for use in the third world.
We fill eco-bricks with plastic wrapping, these can then be used to build structures.
We offer 'pre-loved' frame cases.
Transferring patient records to a computing 'cloud' is not only safer but means an end to mountains of paperwork.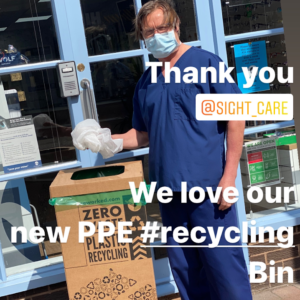 We know we can do more and fully intend to.
Amid all the hoopla over football, concern over rising Covid cases and plans for the summer holidays, you'd be forgiven for not knowing this month is #PlasticFreeJuly.
It's an annual reminder, if one is needed, that we can all takes steps to cut the amount of plastic in our lives and help our planet. You can get help with your own waste reduction at plasticfreejuly.org
There's more about what we do and some of the suppliers we work with on our Eco Commitment page.