Three ways we're different
1.
Our eye examination tests are thorough so we can really get a complete picture of your eyes' health. Your examination appointment will take 40 minutes and use the very best clinical equipment with the results analysed by our experienced staff. People are often surprised by the detail provided by our eye examinations – our view is that with something as important as your sight, you want the best information.
This clinical expertise allows us to get more detailed information about your sight than ever before. The more we know, the more accurately we can dispense a prescription that will work best with your eyes and improve your vision.
2.
After a thorough examination to establish your prescription, we recommend the best solution for you. This may mean either a single vision or varifocal lens. Varifocal means when you move your eyes up and down, the lens will always give clear vision at every distance you need.
We only work with lens manufacturers with an outstanding international reputation for their products and innovation.
Combining our years of experience and technical know-how with the very latest in lens technology means our customers can be reassured they are getting a service that is second to none.
3.
We believe that outstanding service is what our customers deserve. Our business has been a part of local life for a long time now and the best way to ensure we continue helping people for many years to come is by offering the very best service we can.
We're always looking for ways to improve which is why, if you can't make it to the practice to collect your glasses, we can either pick you up or deliver to your home address in Blackpool and the Fylde.
We don't expect these 'little extras' to be acknowledged, but we're thrilled when happy customers leave comments about the service they've received. Take a look at the 'Our Customers Say' page.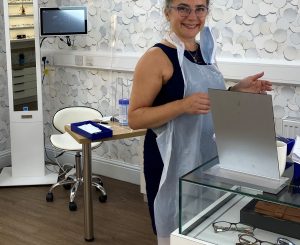 We will be open throughout the current lockdown for all your eyecare needs.
We have gone to extensive lengths to make the practice Covid-safe. You can read about them in the Latest News section.
Please call us on (01253) 341955 or email info@woodhouseopticians.co.uk and we'll get you booked in.