Woodhouse Opticians' 2022 charity partner
There's not a family on the Fylde coast that hasn't been affected by Covid over the last two years.
That's why we're proud to announce we're partnering with one of the area's leading charities who are doing so much to help families through this particularly challenging time.
Home-Start Blackpool, Fylde and Wyre is simply an amazing organisation.
The help they provide to families in need is incredible. So we had no hesitation in offering them and the people they support any backing we can.
2022 marks our 60th year as a family business. We wanted a charity partner who was a part of our community and supports the people of this area.
Home-Start's approach to getting families through their toughest times is all about compassionate, confidential help and expert support.
Life-changing events can happen to anyone and Home-Start volunteers understand how hard it can be to be a parent dealing with everything that can be thrown at us. They work alongside parents, in their own homes, to help them cope with the stresses and strains of life. They make sure they have the skills, confidence and strength they need to nurture their children.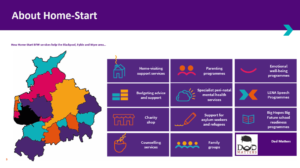 You can find out more about their volunteers and the services they offer at www.home-start.org.uk or check out the Blackpool, Fylde and Wyre Facebook page.
The ways we'll be supporting Home-Start include:
There won't be a fee for the small repairs service we offer. Instead we'll encourage those who want to, to make a donation to the charity. There's a collection box in the practice for this – and for anyone else who wants to help.
We'll offer referred Home-Start families a free upgrade to an enhanced eye test when they visit for their NHS check. Or if that's not applicable, a free OCT scan.
We'll also use our experience to signpost any family with eyesight concerns to someone who can help.
Most exciting of all, if Covid restrictions continue to ease we hope to be able to support the charity through an actual in-person event later in the year!
Woodhouse Opticians Director Sukie Woodhouse said: "We have been so impressed with how effective Home-Start are in supporting families with all manner of issues.
"As a community-based business we had no hesitation in wanting to help them in what they do. We're really looking forward to seeing how that develops over this year."
Dona Kirkham, Corporate and Community Fundraising Manager with Home-Start Blackpool, Fylde and Wyre, said: "We are so excited to be Woodhouse Optician's chosen charity as they celebrate their 60th year.
"There's a great tie up between the work they do looking after people's eyesight and the help we give families. Having the support of such a long-established local business is very important to us."