We've been busy in lockdown
Since we sadly had to close our doors in March we've missed you – but we haven't been idle.
Many of our regulars have shared the lockdown with us via our Facebook page. Others have been in touch for contact lenses and repairs. We've particularly enjoyed sharing laughs at the creative ways you've found to hold your frames together – Blu Tack, superglue, keyrings and plaster, gaffer tape and large screws. You name it, we've seen it. There's a couple of examples below.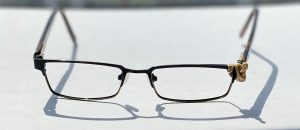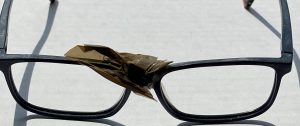 If you follow us on social media, you will have seen images of how we are preparing the practice for your safety and that of our staff. We shared how we were changing the practice to make it easier to clean between patients.
We have sourced PPE equipment, masks and gloves and are putting in extractor fans to keep the air circulating. We've invested in new wipeable floor, seating and equipment coverings as we will be cleaning every surface through the day. There will be information issued to all patients to ensure we can all stay Covid-19 safe.
In addition, our opticians' staff have had the opportunity to add to their extensive knowledge and undertaken many hours of online training on all aspects of clinical and patient care.
Drumroll please…
And, ta-da, we have a new website. Please take a look around. We've written about the way we help you look after your eyes, some of the kit we use and, of course, the great eyewear brands we work with. It's also allowed us to put together some of the lovely comments that patients have told us about their visits.
We'll be adding new features along the way and would love to get some feedback from you on the site.
Right now we're getting everything in place to re-open the opticians properly and we'll be in touch about that just as soon as we can. One thing that definitely won't be changing is our welcome.
You'll see familiar, friendly faces (albeit covered with masks). You will receive the same high standard of clinical care from our team. And you can be reassured that we hold your eye health at the centre of everything we do.
As a small, independent business on the high street we are proud to serve our community and embrace our Woodhouse family.
We can't wait to see you really soon.