The only opticians in Blackpool with a hotel-grade air replacement system?
As the Covid restrictions tighten again and we enter a second lockdown, we are all taking a moment to consider safety for ourselves and loved ones.
We've always been very conscious about the need for a robust health and safety regime. Since March we have taken that to another level, re-addressing the requirements for safety and implementing PPE for all staff at all times.
We've even gone so far as to transform the interior of Highfield Road from a cosy, if dated, carpeted waiting area to a modern, hyperclean and airy practice.
The improvements include:
Chairs have gone from fabric to hard plastic, so we can wipe them down with disinfectant after every use.
Replacing the carpet with vinyl so we can mop all the way through – at least twice daily.
Taking down the flock wallpaper and the crowded display poles for spectacles and replacing them with clean flat racks which are easily wiped. This allows patients to choose frames to try on without disturbing other pairs.
After someone tries them on, we place the frames in a UV box to be zapped with ultraviolet C light which kills the Corona virus. It is like having a mini sunbed for glasses.
The reception desk was changed to one we could wipe down easily, thus preventing the build-up of potential doses of the virus. It looks good too and you can finally see our (masked) smiling faces easily over the top of it through Italian-made protective screens.
Cleaning between appointments
Every surface after every patient is wiped, mopped and sanitised including our hands (although we do not mop our hands!) Thank goodness for a well-known brand of moisturising hand cream (it has a number in its name).
Stephen, our Optometrist and Director, is always masked – he even goes home without realising he is still wearing it.
We all wear scrubs and feel very professional. Each night these are removed at the door and washed at 60 degrees. In addition, all dispensing staff and clinicians wear a fresh apron for every new contact. Squaring the circle with our eco remit is even harder to do right now.
The cleaning between appointments is lengthy. However, this keeps our patients and ourselves SAFE so must be done.
Finally, our state-of-the-art air extraction system. These are commonly installed in huge hotel complexes to constantly remove all the old air and replace it with fresh. This is akin to bringing the outside, in. You can hear the hum in every room letting you know it is working for your safety.
We want you to feel safe and be safe when you come to us for an eye examination There is just no other option. So, yes, top hotel-grade fresh air for all our patients.
We will remain open throughout this second lockdown with the blessing of the Government and our governing bodies. We are proud to be essential workers and provide services for our wonderful NHS.
Please do not hesitate to contact us for all your eyecare needs during this second lockdown – and stay safe.
→ We were delighted when one of our customers name-checked us after The Blackpool Gazette asked readers for the most Covid-safe businesses in town.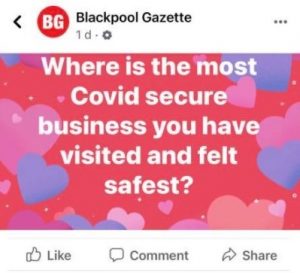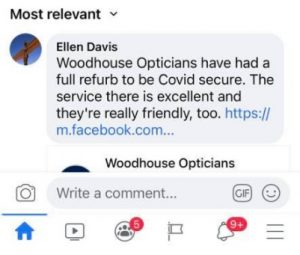 → There's more about the inspiration for our new-look here.